Leading

 Trading Standards Approved


Self Build 
Timber Frame House Specialist
Welcome to Solo Timber Frame, the destination for those embarking on the unique journey of a Self-Build Timber Frame House.
Since our inception in 2003, we have established ourselves as a leading designer, engineer, manufacturer, and builder within the UK's vibrant self-build landscape. Our name is synonymous with crafting beautiful, bespoke timber frame houses that are as distinctive as they are durable.
Our clientele ranges from aspiring Self-Builders and Independent Property Developers to innovative Architects and Construction Companies. We take pride in delivering a diverse array of Timber Frame solutions, from stylish apartments to ambitious grand designs that capture the imagination.
At Solo Timber Frame, we understand the essence of home. Our directors, with their roots firmly planted in property development, have firsthand experience of the challenges faced by self-builders. It was a vision to redefine this experience that led to the birth of our company. Rest assured, we are dedicated to breaking the mould, not emulating it.
Our commitment to excellence and customer satisfaction is evident in our accolades. We stand alone as the only Timber Frame company within our industry to be endorsed by both the Trading Standards 'Buy with Confidence' Scheme and the prestigious Which? Trusted Trader status. Membership in these schemes is more than a badge—it's a testament to our unwavering commitment to legality, honesty, and fairness in every aspect of our business.
For those who wish to delve deeper into our credentials or start a conversation about your dream project, we invite you to explore our Trading Standards accreditation. Or, if you're ready to take the first step towards realizing your vision, we warmly encourage you to request a free quotation. With Solo Timber Frame, your journey to a bespoke, beautiful Timber Frame Home begins with trust and ends with excellence.
---
Our Timber Frame System
At Solo Timber Frame, we understand that efficiency and flexibility are paramount in your self-build journey. Our range of insulated timber frame options is designed with your diverse needs in mind, boasting U-values as low as 0.15. Whether your project calls for a cost-effective, value-engineered solution or you aspire to the pinnacle of energy efficiency with a Passive House, we are equipped to assist.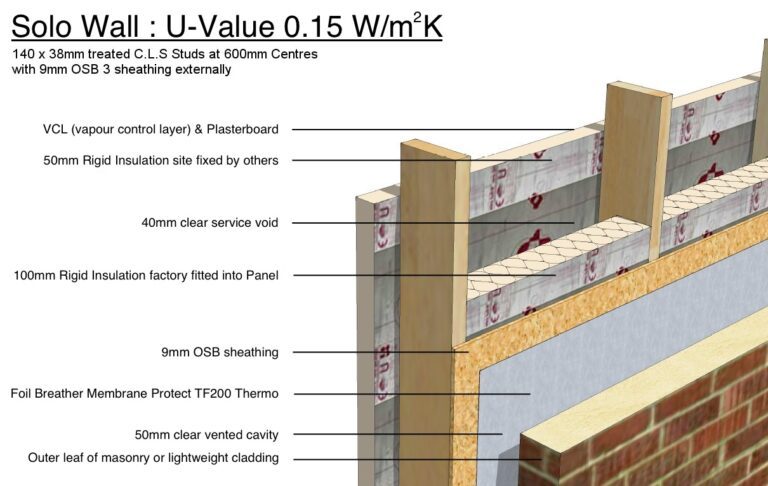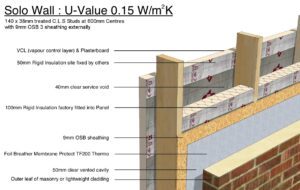 Our expertise in tailored timber frame solutions ensures that your build not only meets but exceeds expectations in energy performance, creating a comfortable, sustainable home for years to come. Let Solo be your partner in achieving the perfect balance of comfort, value, and eco-conscious living.
---