Step 2 – Self Build Design and Planning
When it comes to designing and planning your new house you have a number of options.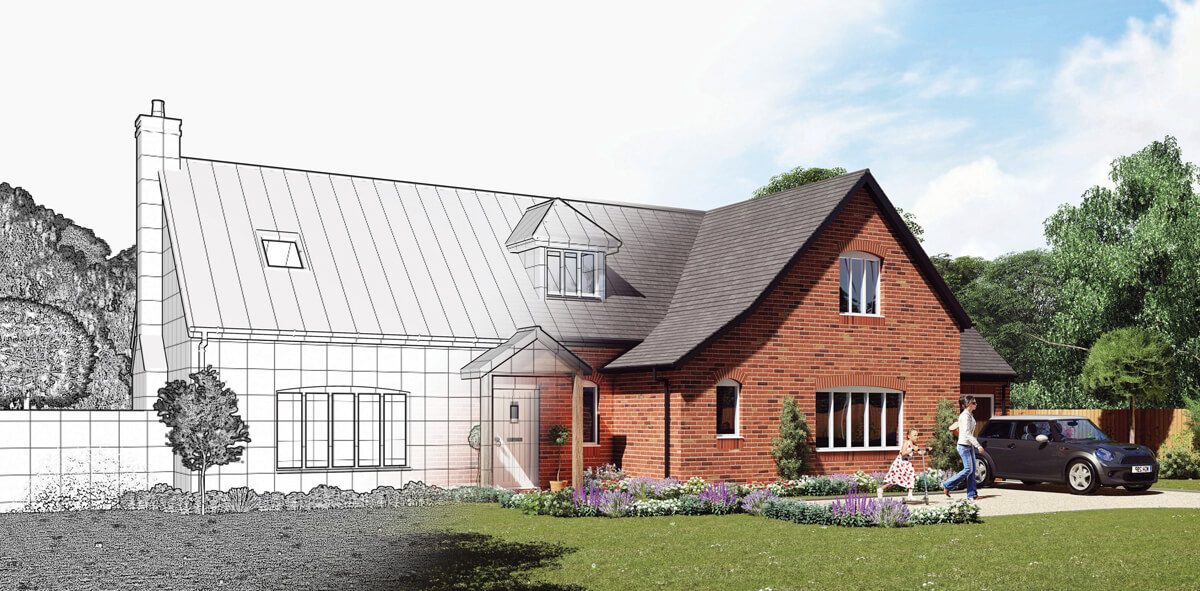 Design it yourself
You're building a house yourself, so why shouldn't you design it yourself?
If you have some experience of construction this may be a viable option, but even at the very early stages of design you need to be considering Engineering limitations, Building control requirements, CDM (Construction Design & Management Regulations) and a whole host of other matters.
Our advice is to look at the bigger picture and employ a professional to undertake the process. This may be more expensive in the short term but it will no doubt save you money longer term by having a design that will work in terms of regulations.
Use a standard off the shelf design
This is a quick way of designing your new house especially if you don't know where to start, but it's not always that simple
Standard Designs are wonderful for giving you an idea of what's possible and generating ideas, but trying to get a standard design through planning can sometimes be hard work, as your planning officer will likely insist upon any number of changes to fit in with the local vernacular, such as a reduction in the ridge height, to help reduce the mass of the building or re-positioning windows to avoid overlooking neighbours.
Our suggestion is that you utilise standard designs as a good starting point helping you define the 'type' of house you want to build rather than the 'exact' house you want to build. You can then present this information to your Architect or Technician and ask them to work your ideas up into a coherent design.
Employ an Architect or Architectural Technician
This is the most obvious route to getting a design that will work and comply with all of the current building regulations, but it's also the most expensive option.
In our experience you'll also need to keep a tight rein on them as some (not all) are guilty of designing for their own portfolio with little regard to your requirements and budget.
The word 'Architect' is a protected word and may only be used by a person licensed to plan, design, and oversee the construction of buildings. Others can undertake this role but they may not call themselves Architects. The term Architectural Technician is often used to describe people who design buildings but are not licensed.
If you're looking to create your very own Grand Design then employing an Architect may be the best route. If you're looking for something a little more restrained or already have a good idea of what you're trying to achieve then an Architectural Technician may be better suited to you.
When instructing an independent Architect or Architectural Technician, ensure that it's written into your agreement that once the design is complete, they supply you with the CAD files. Some designers are reluctant to release them, and it means that we have to redraw the design which adds time and cost to your project.
Use a package provider
You can employ a company like Solo Timber Frame to design your new home for you. In our case we offer a range of standard designs, ask us to adjust one of those designs or ask us to design a totally bespoke house completely tailored to your requirements.
How Solo Timber Frame can help
We charge £3,500 + VAT for our Planning Service as detailed above. In addition to this sum you'll also need to pay the planning application fee payable direct to your Council. If you have a site where you plan to build more than one property please ask us for a tailored quote.
Where required, we'll also arrange Topographical surveys, Tree reports, Contamination reports and Desktop surveys.
Our aim is to try and take all the paperwork and frustration of the Planning process away from you, leaving you to concentrate on the enjoyable aspect of designing your new home.
IMPORTANT NOTE:
Solo Timber Frame is primarily a supplier of Timber Frame Homes. We offer our Design & Planning Service as part of a package for clients who intend to use Solo Timber Frame to build their Timber Frame House. If you're considering having your new home built by another company, using another method of construction or plan to sell your plot once permission is granted, then you should instruct an independent Architect.
Alternatively, for £10,000 + VAT we offer a copyright free Architectural Design package. If you subsequently choose Solo Timber Frame to build your Timber Frame we will refund you £3,500. Please Contact us for details of this service.