Your Timber Frame Options
Our standard wall has a U-value 0f 0.15 and more than meets the requirements of building control. If You want to go beyond that we're always willing to discuss bespoke options.
When designing our Timber Frames, we have ensured minimal additional labour is required on site. Many of our competitors have taken the route of additional cavities to increase efficiency, but these systems take away valuable floor space and are costly to install in terms of time and money.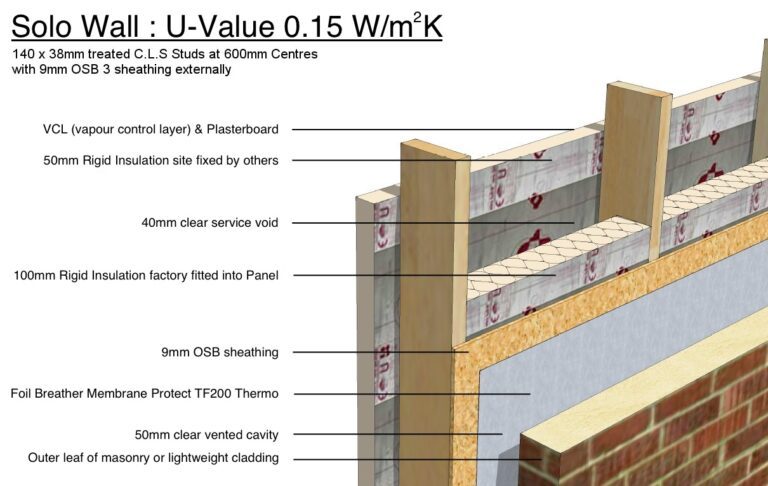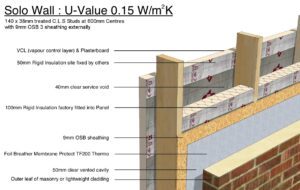 Building Regulations are a seemingly ever changing set of requirements laid down by Parliament to ensure that your new build house is built to approved standards. The Approved Documents that offer guidance on how to comply with the Regulations are listed below.
Part A – Structure
Part B – Fire Safety
Part C – Site preparation and resistance to contaminants and moisture
Part D – Toxic Substances
Part E – Resistance to the passage of sound
Part F – Ventilation
Part G – Hygiene
Part H – Waste Disposal
Part J – Combustion appliances and fuel storage systems
Part K – Protection from falling, collision and impact
Part L – Conservation of fuel and power
Part M – Access to facilities and buildings
Part N – Glazing
Part O – Overheating
Part P – Electrical Safety
Part Q – Security in Dwellings
Part R – High Speed Electronic Communications Networks
Part 7 – Material and Workmanship
U Values
If you're looking for a science lesson then take a look at the Wikipedia entry
We'll attempt to give you a much simpler oversight here
U-values are a measure of thermal transmittance and express the rate of heat transfer through any element of your building, such as the wall, roof, window or indeed any structural component. The higher the figure, the worse the thermal insulation quality. So aim to keep your U-values low.
Because the construction of these elements can vary so much depending on your design and choice of materials, the U-values vary too and hence they need to be calculated specifically for each element. The units used to express U-values are watts per m² Kelvin (W/m²K). This means that if a wall, for example, had a U-value of 1.0 W/m²K, for every degree of temperature difference between the air on the surface inside the wall and the air on the surface outside, 1 watt of heat would pass through any m².
In addition to the Building Regulations, you may be asked to comply with other guidelines including CFSH (Code for Sustainable Homes), SAP (Standard Assessment Procedures), SBEM calculations (Simplified Building Energy Model) and EPC (Energy Performance Certificates).
Whatever the requirements, Solo Timber Frame can guide you through what is one of the most confusing aspects of your Self Build.